Welcome to PR Magic
Based in San Mateo, PR Magic, a division of The Larose Group (TLG), is a full-service strategic communications company, specializing in international public relations, marketing, promotions and media relations for the past 22 years. TLG offers services for a wide variety of clients, from high tech corporations, small businesses and non-profit associations to organizations in the hospitality, travel and tourism industries.
In addition, the agency has successfully produced and promoted numerous international special events. The TLG philosophy is to create a well-defined strategic program in a collaborative process with the client to achieve their goals in a cost effective manner and ensure successful results.
---
Recent News About Us
KCRA Morning News
Frances Larose represented the Sacramento Harvest Festival's artisans on KCRA morning news in Sacramento, Nov. 21, 2014. Do you have a need to generate awareness about your products or services.
Click here
to view this short interview.
Taiwan Tourism Bureau Economic Stimulus Event
Taiwan Tourism Bureau Economic Stimulus event at the Cable Car Turn Around on June 3rd generated coverage on 296 media outlets across the country.
See Taiwan Tourism Press & Media Coverage.
Frances and Liz on Set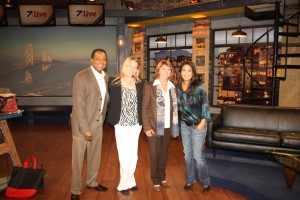 New Taiwan Cycling Tourism Packages
The Larose Group
is excited to partner with the
Taiwan Tourism Bureau
to help promote their new cycling tourism packages. Whether you are a novice or expert biker, you're sure to find your perfect getaway travelling to the Heart of Asia. For more details, please check out this great video and link to our blog that explains all the fun and affordable tour options. It's Time for Taiwan!
2013 California Excellence Award

The Larose Group
received the 
2013 California Excellence Award
! The Larose Group has been selected for the 2013 California Excellence Award amongst all its peers and competitors by the Small Business Institute for Excellence in Commerce (SBIEC).
Upcoming Events
---